VoIP, or Voice over Internet Protocol, is a phone system that offers incredible 'big' business features, flexibility, and scalability, at extremely affordable prices.
Our customers have saved a great deal of money by switching to cloud-based VoIP business phone systems. However, we've found that it can be tricky to explain how new clients will save the dollars. So, we're here today to help you make 'cents' of it all – with a simple guide to VoIP pricing.
VoIP VS. old-school Phone Systems
Unlike traditional phone systems, VoIP systems don't require physical phone lines. With traditional options, businesses pay based on the number of lines that they have, in addition to other costs. And, when a traditional system runs out of physical lines, a business is presented with very limited expansion options. Option one is to buy a whole new system, which can cost thousands. A second, often implausible option, is to try to expand the original hardware.
With VoIP on the other hand, since there are no physical lines, your business can add as many as it needs. If your company went from 5 employees to 500 for example, your same VoIP system would still be compatible. Simply call us and we can scale services appropriately. Additionally, VoIP clients don't pay per number of lines. Rather, VoIP pricing is based on customizable usage plans. Let's talk more about that.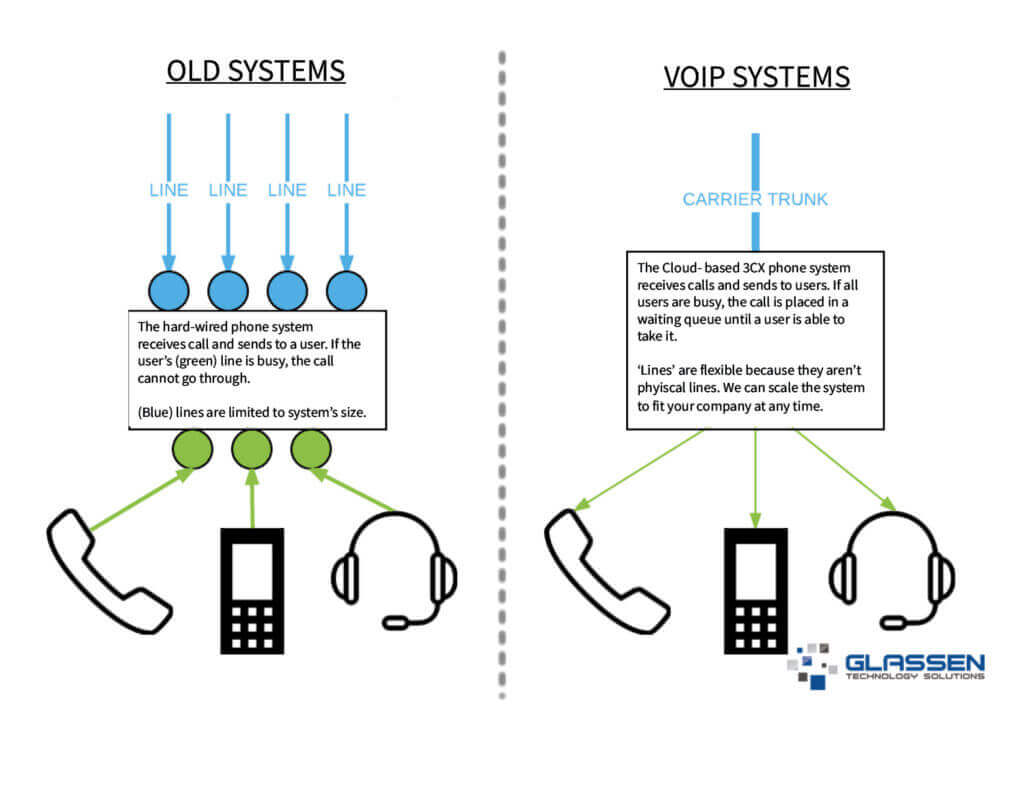 Providers Needed to Support VoIP
For cloud-based VoIP to function, you'll need 3 things:
a cloud-based phone system
and a dial tone provider
Reliable internet is crucial because poor internet means a poor phone connection (and hence, poor customer service). We'll talk about the other two segments in greater detail.
Cloud-Based Phone System (3CX)
We are 3CX partners, as we've found their VoIP systems to be the very best.
Your cloud-based system is the first portion of your monthly cost. As stated previously, 3CX doesn't base price on number of lines (or physical pieces of hardware that can make and receive calls). Rather, pricing is more customizable and based on number of active users at a single time.
3CX comes in different sizes (packages). Packages are based on the number of simultaneous users you'd like to be able to make a call at any one given point. For example, a company of 15 employees likely only needs a package that allows 8 simultaneous calls. Moreover, a company of 140 employees likely needs a package that allows at least 64 concurrent calls. The larger the package, the more the phone system costs per month.
See how much Korndoerfer Homes saved by switching to our 3CX VoIP phone services! Click Here >>
Dial Tone Provider (SIP Trunk Provider)
The second portion of your VoIP pricing plan is the dial tone, or SIP, provider. A SIP trunk provider is a telecommunication company that provides SIP trunks. SIP trunks are how your VoIP system (like 3CX) connects with the outside world through the "PSTN" or publicly switched telephone network. There are two different ways of creating a SIP trunk plan.
The first plan is a 'pay-per-minute' plan. With this plan, you choose how many minutes of inbound and outbound calls you would like per month and pay accordingly. Alternatively, the second plan allows you to pay for how many channels you'd like. A single channel is the equivalent to one ingoing or outgoing call. This option grants unlimited minutes of monthly usage. However, you're limited to how many simultaneous calls are happening – as each channel allows for one external call.
The plan you choose will depend on your company's calling habits. We are readily available to assist you with the assessment of your current call handling so that you can make an informed decision.
Cloud System (3CX) + Dial Tone (SIP Trunk) = Monthly Cost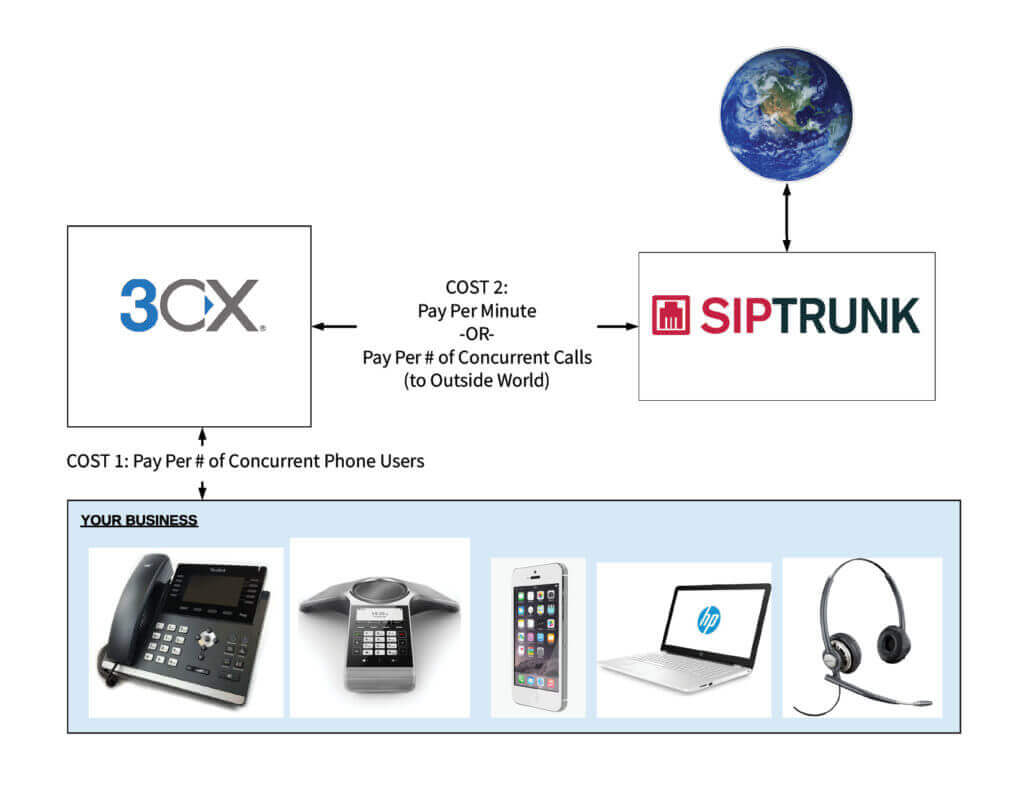 Conclusion
Though making the switch can seem a bit confusing at first, in doing so, you can drastically cut your monthly phone costs. And, not only does a VoIP system save you money, but it's also incredibly feature-rich, scalable, and customizable.
Ready to make the move? Let's get started with a free quote!
Interested in learning about all the great features VoIP has to offer? Check out our VoIP business phone guide! Is a VoIP Business Phone Right for You?>>
We offer unlimited 3CX support to our managed clients! Not yet a Managed IT Client? Check out our guide: Is a Managed IT Support and Services Provider Right for Me?>>